What do you look for when purchasing a volleyball shoe? Is it how classy it looks, how stylish it makes you appear to your friends or how comfortable it feels when you try it on? Many people tend to purchase shoes that make other take a second glance at their feet.
As a player, your volleyball shoes should not only look appealing but they should also feel comfortable for you to be able to jump around the pitch without injuring your feet. Luckily, various shoe companies can help you achieve both elegance and comfort by buying the best volleyball shoes.
The table below will help you know what brand to go for according to your needs and preferences. It also gives you a site from which you can order your volleyball shoes. The best volleyball shoes have been ranked as shown below.
The best volleyball shoes 2018
Asics Women's Gel Rocket 7 Volley Ball Shoe– It is suitable for athletes who conduct constant lateral movements
Purchasing this shoe lets you enjoy your game without worrying about falling due to lack of stability. If your shoe size is between 6 to 12, get yourself an Asian gel rocket 7 shoe choosing a color of your choice. For bigger feet beyond that range, it may be challenging to get an Asics Rocket 7 volleyball shoe that fits you.
Specifications
Forefoot Gel cushioning system
Trusstic system
Extra gum rubber
Minimized overlays and seams
NC rubber
75 inch shaft
This volleyball shoes are designed with a light weight upper and an additional gum rubber on the sole. Traction is improved due to availability of the extra gum and an NC rubber outsole.  The rubber is more natural in comparison with other solid rubbers used. Thanks to incorporating a gel cushioning system, your volleyball shoes are able to absorb shock when you land with high impact preventing you from experiencing pain with the constant jumping.
Purchasing this volleyball shoe makes you feel more stable due to the midsole that improves the balance. In order for your shoe not to feel heavy, a trussic system is used to minimize the sole's weight. It also maintains the structure of your shoe so that they always appear sharp.
Pros
Pocket friendly
Low top design makes them comfortable on your feet
They are light thus makes it easy for you to jump while trying to save the ball.
High quality rubber sole
Cons
Limited sizes.
Long breaking in time.
Verdict
ASICS gel rocket 7 volleyball shoes will not only appeal to your sense of style but also offer you comfortable padding designs. The strong materials used to design these shoes gives you great service for long. These kind of shoes are what you need for you to perform in your volleyball game even with delicate joints and muscles.
Nike Women's Volley Zoom Hyperspike Volleyball Shoes– It is ideal for all volleyball players despite the position one is playing
Looking for a shoe that does not feel like a burden on your feet? This shoe is equipped with lightweight designs to help you play for hours without getting tired. You can wear Nike shoes both in summer and spring seasons unlike other brands which make your feet sweat during hot seasons. Women like Nike shoes due to a variety of themes offered by the brand. It is however important to note that Nike volley zoom hyperspike shoes can make you uncomfortable with long hours of practice.
Specifications
Incorporates Flywire 3.0 technology
Nike zoom cushioning
A phylon midsole
Non slip rubber Outsole
Ankle support
Do you sometimes feel like your feet are not breathing when on some kinds of shoes? Such situations are what makes some people's feet stink due to lack of proper air circulation. To solve this problem, Fly wire 3.0 technology is used in Nike volley zoom hyperspike volleyball shoes to let your feet breathe and increase comfortable foot to upper fit.
Your feet may keep on moving inside a sneaker as you play. Nike volley zoom hyperspike shoes prevent this from happening. The rubber outsoles give traction whether you are playing on cemented or sandy surfaces. These outsoles help you turn directions easily.
The mid sole is made of phylon which protects your toes from injuries caused by great impacts through dissipation. Even if you are stepped on in the field, this sole protects you from experiencing extreme pain. Phylon also make them comfortable by adding support on your feet.
A cushioning technology is used by the manufacturers to bring your feet near the ground so that you feel more stable. These are one of the best volley ball shoes because you do not need ankle braces to improve support. A high ankle support is already provided for you.
Pros
Good cushioning
Nike volleyball shoes are comfortable
They are made from durable materials
Non slip outsole
Cons
Some people complain that these shoes never fit as expected. They are perceived to be somewhat large.
Verdict
This quality designed shoes appeals to people with large feet. You will love the TPU heel that provides extra stability on Nike valley zoom hyperspike volleyball shoes.
Mizuno Women's Wave Lightning Z2 Volleyball Shoe – ideal for sensitive skin
Achieve excellent traction by purchasing these volleyball shoes. They allow you to run faster while playing and help you land safely after high jumps. These high quality shoes come with comfortable mid cut designs. Mizuno wave lighting Z2 are however limited in that you need to purchase extra ankle braces to improve support.
Specifications
3 layer seamless upper
New grade rubber
PownCe material
A midsole blended with SR Touch
Parallel wave plates
The upper part of the volleyball shoe is designed with three seamless layers for them not to wear out easily. As your feet move, a Dynamotion fit system technology enables twisting the inside of your shoe making it possible for you to change direction without straining. Increase your foot's grip, by purchasing this shoe that corresponds well with the shape of your foot.
Tired of developing blisters every time you practice? Mizuno wave lightning Zs shoe is the solution you need due to its minimal cushioning. Feel safe while playing on rough surfaces with these volleyball shoes thanks to a wave plate technology used to dissipate impact when you land after a high jump. Parallel waves placed are strategically placed to boost lateral stability.
An SR touch is added in the midsole to act as shock absorber. A gum bottom sole is a new grade rubber combined with flex groves to increase traction. The light weight poWnce material used to manufacture Mizuno Zc volleyball shoes boosts durability of the cushion. Purchasing these shoes gives you extra padding and dura shield so that you don't injure your feet as you make sharp turns.
Pros
Durable shoes
They do not restrict movement across the court.
Mid cut designs make the shoes comfortable.
Cons
They are not pocket friendly
Short tongue
Verdict
Enjoy these good quality shoes while spending less purchasing them. The value of the volleyball shoe lies in the ability to train for long without weighing you down. Achieve stability thanks to synthetic overlays placed in Mizuno women's wave lighting Z2 volleyball shoes.
ASICS Women's Gel 1150V Volley ball shoe– Comfortable rear foot Gel cushioning system
 Stay healthy with Asics Women's Gel 1150V volleyball shoes. The manufacturers of these shoes intend to make you perform in your game by preventing anything that deters you for instance using unstable shoes. In finding the best volleyball shoe, you need to understand that this shoes have a broad base which makes some users experience discomfort.
Specifications
Synthetic leather
Speva midsole
Dura sponge rubber
Lace entry
Padded collar
Most playing shoes tend to wear out easily due to vigorous activities on the court. These shoes are fitted with a synthetic leather and toe guard that not only boost durability but also protects your delicate toes. A volleyball game requires the ability for players to bounce back during the game so as to save the ball from hitting the ground. A speva midsole is fitted in Asics Gel 1150V volleyball shoe to help you bounce back easily.
Allow your feet to breathe inside these shoes thanks to the dura sponge rubber fitted in the outer sole. A ventilated sole unit enables air circulation possible so that your shoe does not smell even as you sweat from a volleyball game. Rear foot gel system is used to absorb shock when you land heavily. Padded collars gives you extra protection and makes you more comfortable while playing.
Pros
They do not need breaking in time
Best for beginners
Affordable
Cons
Sometimes the arch support does not work as expected
Verdict
Any volleyball enthusiasts will like Asics Women's Gel 1150V volleyball shoes due to its ability to provide the necessary traction so that you do not slip while playing. The outstanding features such as padded collars and lace entries are provided for you to enjoy the game. Do not overlook this product.
Adidas Performance Women's Volley Response Boost W Shoe – ideal for long training hours
Are you a trainer with bigger size feet? An Adidas Performance Women's Volley Response Boost W Shoe is what you go for. These shoes come in different colors that you can choose from. Players with small feet may be limited to get such shoes since most of them come in bigger sizes. Always try out these type of shoe before buying it even if you are certain of your shoe size because of this limitation.
Specifications
Synthetic leather material
Perforations
A midsole made of torsion system
Thermoplastic arch support
Flexible and breathable upper
The volleyball shoes are made from synthetic leather that makes them last long. Your feet's breathability is achieved due to the mesh and perforations found on the outer layers of your volleyball shoe. Playing with an Adidas Performance Women's Volley Response Boost W Shoe allows you to go for long hours practicing without experiencing discomfort.
Your feet are able to gain enough stability due to the presence of a thermoplastic arc support. Courtesy of this support, you are able to play in all types of surfaces. An Adiwear technology is used to design this shoes offering you more stability to the ground.
Pros
They are light for you to achieve high jumps
Perforations improve safety of your feet
The designs used to make them are comfortable
Premium adiwear outsole
Cons
These shoes may not be suitable for people with wide feet since they are manufactured narrowly making some users judge their efficiency in volleyball.
Verdict
This brand stands out among the many brands offered by different markets. Play without worrying that your back may be injured due to high impact thanks to protection from Adidas Performance Women's Volley Response Boost W Shoe
ASICS Men's Gel Netburner Ballistic MT Volleyball Shoe – Ability to bounce back
Are you looking to enhance your play time without feeling completely worn out? Go for an ASICS Men's Gel Netburner Ballistic MT Volleyball Shoe due to its unique design. It is advisable for you not to buy these volleyball shoes online without trying them on because they may not be wide enough for your feet.
Specifications
Gel cushioning technology
Made of polyurethane material
They are equipped with a Fluid Ride midsole
Brace panel
Trusstic system
What makes the shoes famous? First, they give the value for your money. They are made from a combination of ballistic fabric and polyurethane material which makes the shoes both strong and user friendly.  A fluidride midsole helps you bounce back after jumping so that you don't slip to the ground.
Gel cushioning technology minimizes the impacts of shock boosting traction. You can play for long hours without getting fatigued due to presence of good cushioning systems used in these volleyball shoes. A trussic system prevents your feet from moving inside the shoe. Brace panels secure your foot in place giving you more comfort.
You can also prevent movement of your feet by wearing quality socks before heading for a volleyball game. Look good and stay safe with ASICS Men's Gel Netburner Ballistic MT Volleyball Shoe.
Pros
Provides a strong grip and good arch support
Ankle braces blend well with these volleyball shoes.
They are pocket friendly
Attractive Poseidon themes
Light weight shoes
Cons
Wear out easily if exposed to intense training
Verdict
You never go wrong by purchasing these volleyball shoes. They make you look stylish while at the same time improve your performance in the court since they are light weight for you to enjoy long playing hours. This is a reputable brand ranked as one of the best volleyball shoes in 2018.
Mizuno Wave Tornado 8 Men's Volleyball Shoe – ideal for high caliber players and those with weak muscles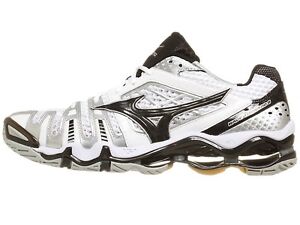 This volleyball shoe is just what you need to dissipate shock evenly so that your weak muscles do not succumb to injuries. Shooter players too should also go for Mizuno volleyball shoes because as you fly high when shooting the ball across the net, you are likely to make a sharp landing. You may experience slight pain when putting on these shoes since they have a narrow opening.
Specifications
Shock dispersion technology
Support straps
Experience great comfort wearing such shoes with soft fabric in the inside layers to make you feel relaxed. You can easily run, jump or do strenuous exercise due to their light weight. Use of shock dispersion technology making you stable as you land. Support straps ensure that your ankle region is in place to prevent you from slipping.
Pros
The sole is thicker in comparison to soles from other volleyball shoes improving shock absorption
Tying you shoe with the extra support straps provided makes you more stable.
Cons
One of the most expensive brands
Limited deigns and color variety.
Verdict
Mizuno is popular for producing one of the best volley ball shoes in 2018. Use of advanced technology improves the quality of your mizuno wave tornado 8 volleyball shoes.
Mizuno Women's Wave Bolt 5 Volleyball Shoe– Uniform shock dispersion
Having trouble finding a shoe that fits your large feet? Check out Mizuno Women's Wave Bolt 5 Volleyball Shoe and enjoy your next game. These shoes incorporate a zigzag wave technology that helps to disperse shock in a uniform manner. Purchasing these volleyball shoes ensures that your feet remain soft even after years of playing since pressure is evenly spread during landing. They are however limited in that they sometimes run small.
Specifications
Availability of an air mesh on the upper part of the shoe
Aeration technology
Parallel wave technology
Flexible rubber soles
High traction design
Manufactured from synthetic leather, Mizuno Women's Wave Bolt 5 Volleyball Shoes allow proper air circulation preventing emission of foul smell from your shoes. Use of an aeration technology also minimizes humidity from accumulating inside your volleyball shoe. A parallel wave technology is also used to dispense shock when you take a jump.
By using a dynamation fit technology, your feet are oriented to feel natural as you play. These volleyball shoes allow you to land safely after jumping. A non-marking outsole provides a proper grip to any kind of surface.
Pros
These volleyball shoes do not need lots of breaking in time.
The rubber sole is flexible
The interior of the volleyball shoe are lightly padded so as not to add much weight on the shoe
Non marking outsole
Cons
Less durable lace eyes
They also run small.
Verdict
The kind of shoes that you are wearing on the field determines the outcome of a game. Choosing a Mizuno Wave Bolt 5 enables you to comfortably make higher jumps without the risk of injuring yourself.
Adidas women's Crazyflight Team Volleyball Shoe – Lightweight and breathable shoes
Are you one of those ladies who find it hard to find a small sized shoe for your game? Go for an adidas women's Crazyflight Team Volleyball Shoe that not only looks sophisticated on your feet but also fits well ranging from as low as five up to twelve size volleyball shoes. Making these shoes in white color makes them easy to collect dirt and if not washed regularly adidas shoes could discolor easily.
Specifications
Rubber adiwear sole
Air mesh
Synthetic overlays
Made from textile material
Made from textile fabric, these volleyball shoes contain a rubber adiwear sole that allows traction whether you are practicing on rough or soft surfaces. Strategically placed synthetic overlays give you enough support for you not to fall when hit in the game. They also contain an air mesh to allow air to get inside your volleyball shoes as you practice and minimize humidity.
Pros
TPU toe cap increases durability
The lining inside the shoes makes them more comfortable
Rubble outsole provides traction
Cons
Limited color varieties to choose from
Verdict
Adidas women's Crazyflight Team Volleyball Shoe support your weight while playing thanks to reinforcement from durable foil. These volleyball shoes will help you gain all the skills you need with long training periods. Get this pair today and take your team to the next level.
Asics Men's Gel- Rocket 8 Volleyball Shoe – High traction maintenance
Gain arch support with one of the highest rated volleyball shoes: Asics Rocket 8 volleyball shoes. This male version of gel rocket 8 makes you comfortable while giving your best at your volleyball game. Some people disagree with this by claiming that these volleyball shoes wear out easily.
Specifications
Forefoot gel cushion
NC rubber outsole
Eva midsole
Gum rubber outsole
Pros
Lightweight and comfortable
Cushioned foot for impact resistance
Cons
They stretch easily
Some users complain that they sometimes run small
Verdict
This Gel rocket 8 brand is not new to the era of Asics. What makes is not become obsolete is its ability to maintain a strong grip no matter the type of surface. Purchasing a gel rocket r volleyball shoes assures you of secure strolling and jumping without experience extreme temperatures in your feet.
These Volleyball shoes Are Not Worthy Investments
Walmart branded shoes – poor designs
These shoes have received so much criticism form their appearance to their quality. The designs used to make them are not appealing and you cannot achieve much playing volleyball with this brand. Many people claim that investing in these brand is a waste of money.
Reviewing The Best Volley ball shoes
What do you look out for before spending on a volley ball shoe?
Fitting
A volleyball shoe needs to be comfortable on your feet because this game involves lots of moving. With this in mind, you cannot afford to buy a shoe that does not fit well on your feet. Some people believe that our feet are not similar in terms of the sizes. One foot is believed to be bigger than the other. With this in mind, you need to fit both shoes to ensure that you feel comfortable on both shoes. Ensure that there is some minimal space at the front part of your volleyball shoe for your toes to be able to stretch.
Shoe brands manufacture volleyball shoes differently. If you are shoe lover, you will notice slight differences in shoes from different companies. For instance, Asics's volleyball shoes are a bit wide giving you a good fitting while Mizuno's volley ball shoes are narrow. Such narrow openings may make you strain when putting on the shoe. You do not want a shoe that feels painful on your feet leaving you with blisters.
Price
Cheap is expensive right? You may have to dig deeper into your pockets to get volleyball shoes that are worth what you pay for. Before you go out shopping for a volleyball shoe, have a certain budget at the back of your mind since there are so many out there. It also helps you narrow down to a small range.
Invest in a slightly costly volleyball shoe and forget about replacing it after every few months. If you are a player who spends most of your time in the field, do not compromise on price when choosing volleyball shoes. Higher priced volleyball shoes tend to be more comfortable compared to lower priced ones.
Durability
Volleyball players are passionate about the game. A good pair of shoes powers them to perform well in tournaments. Go for volleyball shoes that are made from strong materials for them to serve you for a long duration. Long lasting volleyball shoes gives you sentimental value if you love this game.
Caring for these shoes also boosts durability. You need to clean volley ball shoes with the right kind of brush so as not to ruin the fabric. Purchase at least two pairs if you can afford them so that you exchange your shoes. If you wear one pair of shoe every day, it reduces its lifespan. You can also avoid wearing volleyball shoes out of the court. Only put them on when you are preparing for a game.
Style
Research shows that people often judge others from the shoes they are wearing. This theory mostly applies to men. They assume that a man's personality lies in the kind of shoes that they are wearing. Thanks to brands such as Asics and Nike, you can achieve a classic look by buying an appealing volleyball shoe while at the same time getting a comfortable feel. A variety of colors, designs and styles lets you choose what appeals to you and boosts your confidence.
Type of the sole
The sole of your volleyball shoes is the source of your traction. Both rubber soles and synthetic soles give you a different performance. Choose rubber soles as opposed to synthetic soles since rubber soles are natural materials providing a better grip. Synthetic soles on the other hand are not long lasting because they are man-made materials made to resemble rubber but are never as effective as rubber soles.
Weight
When rotating around a volleyball court, you do not want too much weight on your shoes. The lighter your shoe, the better you are likely to perform. Heavy clunky shoes leave you too exhausted to play for long. Light shoes let you play longer with the ability to jump higher as opposed to wearing heavy shoes. Do not let the weight of your shoes deter you from winning for your team.
Breathability
You should never let your shoes embarrass you due to the stinky smell that they may emit. Note that note all brands of volleyball shoes come with air perforations to allow free flow of air. Go for shoes that have a mesh design to allow breathability. Prevent your playing shoes from getting too hot by going for a perforated volleyball shoe. Breathable shoes also prevent excessive sweating as you play.
Know what the market offers
Looking for volleyball shoes can be confusing due to a wide variety. Reduce the confusion by first understanding what the market offers. You can achieve this by first doing window shopping before settling for the first volleyball shoe that you come across. Watch out for features that come with each brand. For instance, go for volleyball shoes that contain gel in order to achieve shock absorption to prevent you from suffering back pain.
Final thoughts
Shopping for a volleyball shoe through the internet may seem easy but your volleyball shoes require testing on your feet for you to get the appropriate features that you need for your game. You therefore need to consider the brands discussed above for they have been rated as the best top ten brands in 2018. Have fun with any of the brands discussed above and win those medals for your team. All the best!